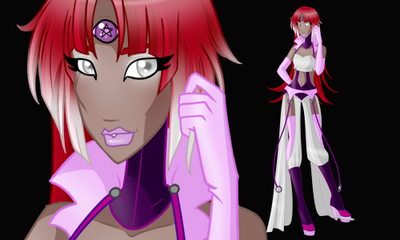 .....
Nicknames/Alias: Phaedie/Phae
Age:
Power: Misfortune Inducement & Magical Eye
Species: Human
Origin: Lithios Prime
Rank:
First Main Appearance:
Appearance
Edit
.....
Biography
Edit
....
Hypnotic Vision
She can put others in a suggestive trance using her third eye
Killing Eye
She can kill via her third eye
Optic Blasts
She can project energy beams/blasts from her third eye
Petrification
Phaedra can transform matter to stone with her third eye
Hex
She can place a curse on anyone or anything. The common effects of her curses are sickness, bad luck, physical defects, breaking and/or objects working wrong. She can cause insanity, unstoppable rages, unhealing wounds etc.
Jinx
She can cause someone to be constantly unlucky
Luck Absorption
Phaedra can absorb the luck energy within objects or people